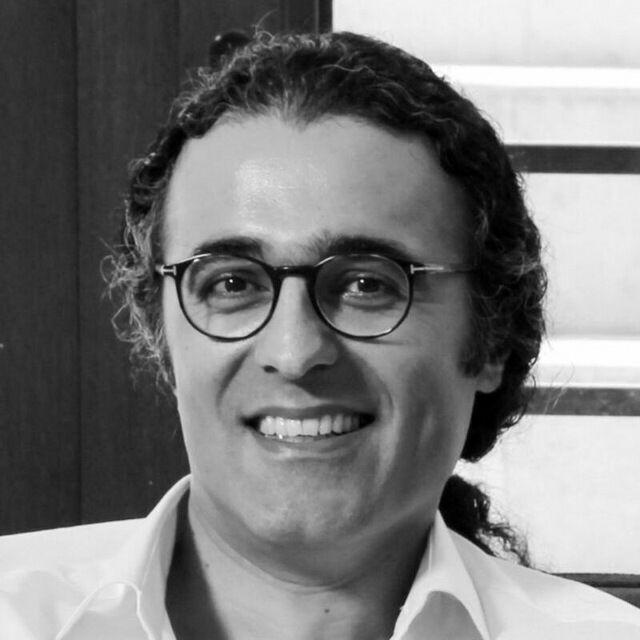 BEHZAD ATABAKI, Tehran, Iran
Behzad Atabaki has founded "Behzad Atabaki Studio" in 1999 and also co-founded "BonnArq Architects" in 2014 which both are recognized for their works in art, architecture, urban design, and landscape architecture.
Winning the first prize in the competition, together with Parshia Qaregozloo, he has been the co-curator of the Iran Pavilion at Venice Architecture Biennale 2016. In 2019 he has won "ARCHITECT OF THE YEAR" at Middle East Architect Awards.
Believing in the multidisciplinary approach to architecture and urbanism, Behzad Atabaki has earned three master's degrees in three interrelated fields of "architecture" in 1998, "urban design" in 2002, and "landscape architecture" in 2006. From 2010, he has been teaching "architecture design" regularly at University.
A number of his works have been awarded and honored in domestic and international architecture and urban design competitions, such as Aga Khan Award for Architecture, World Architecture Awards (WAF), A+Awards (Architizer), Middle East Architect Awards and 2A Continental Architectural Awards.
In 2007 he has been nominated for the Aga Khan Award for Architecture, also in this year he visited Japan to participate in the fellowship program – as the individual Iranian representative – for the Japan Foundation Intellectual Exchange 2007-2008, surveying the Japanese contemporary architecture.
His works of art and architecture has been exhibited in a number of exhibitions and also has been published in several domestic and international books, websites and magazines.
EDUCATION
|I|-2006 Master's Degree in Landscape Architecture, Shahid Beheshti University, Tehran, Iran
|I|-2002 Master's Degree in Urban Design, Tehran University, Tehran, Iran
|I|-1998 Master's Degree in Architecture, Azad University, Tehran Branch, Tehran, Iran
 PROFESSIONAL ACTIVITIES AND MEMBERSHIPS
-CEO and co-founder, BonnArq Architects
-A member of Iranian Architects Society
-A member of Iranian construction engineers organization, Tehran province
-Ministry of road and urban development, license for practicing architectural design
HONORS AND AWARDS
|I|-2021 Honorable mentioned, TEHRAN SCIENCE MUSEUM (competition), Tehran, Iran
|I|-2019 Winner; ARCHITECT OF THE YEAR, Middle East Architect Awards, Dubai, UAE
|I|-2019 Honorable mentioned, Design competition for the regeneration of an urban corridor, Planning and Designing the ground level of Tehran-Tabriz Railway Tunnel, Tehran, Iran
|I|-2019 A member of the jury, Patternitecture II Event (Art & Architecture competition & exhibition), Niavaran Cultural Center, Tehran, Iran
|I|-2019 A member of the jury, Innovative Ideas for Startups, competition, Tehran, Iran
|I|-2018 Shortlisted, Commercial Building of the Year, Middle East Architect Awards, Dubai, UAE
|I|-2018 Shortlisted, Architect of the Year, Middle East Architect Awards, Dubai, UAE
|I|-2018 A member of the jury, Architecture Students Talent, Iranian Architecture Center, Tehran, Iran,
|I|-2018 Behzad Atabaki Studio has won Architectural Firm of the Year, BUILD Awards
|I|-2018 Behzad Atabaki Studio has won The Most Innovative Architecture Company, INTERNATIONAL FINANCE
|I|-2018 2nd place winner, A competition for connecting "Chitgar" park to "Chitgar" lake, Tehran, Iran
|I|-2018 selected as one of 50 influential architects from the Middle East Architects, MEA's Who's Who, Dubai, UAE
|I|-2017 Shortlisted, House-Future Project, World Architecture Festival (WAF), Berlin, Germany
|I|-2017 Invited artist, Reflextreme artwork at Patternitecture event, Niavaran Cultural Center, Tehran, Iran
|I|-2017 Shortlisted, Architect of the Year, Middle East Architect Awards, Dubai, UAE
|I|-2017 First place winner, Kish Residential Tower competition, Kish Island, Iran
|I|-2016 Elected as the curator of the Iran National Pavilion at Venice Architecture Biennale
|I|-2016 First place winner, Iran National Pavilion at Venice Architecture Biennale competition
|I|-2015 Shortlisted, the Boutique Firm of the Year, Middle East Architect Awards, Dubai, UAE
|I|-2015 Participating in Venice Biennale – Iran Architecture Pavilion, Venice, Italy
|I|-2015 Selected project, Exhibition of Iranian Contemporary Architecture in Rome, Italy
|I|-2015 Special mentioned, Niayesh Office Building, Architizer A+Awards
|I|-2014 Shortlisted, Commercial Building of the Year, Middle East Architect Awards, Dubai, UAE
|I|-2014 Honorable mentioned, Lighting design competition, Tehran, Iran
|I|-2013 Shortlisted, Public buildings competition, Memar Award, Tehran, Iran
|I|-2007 Fellowship Program for Intellectual Exchange 2007-2008, Tokyo, Japan
|I|-2007 Nominated for the Aga Khan Award for Architecture; tenth cycle (2005-2007), for Dena Cassette Building, Tehran, Iran
|I|-2005 Honorable mentioned, Tehran Book Garden (competition), Tehran, Iran
|I|-1999 2nd place winner, Insurance office, 2nd Building (competition), Abadeh, Iran
|I|-1995 Honorable mentioned, A New Façade for Hilton Hotel (competition), Tehran, Iran